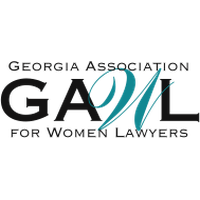 ATLANTA – October 20, 2016
On October 13, 2016, the Georgia Association for Women Lawyers ("GAWL") voted to endorse Constitutional Amendment 2 and to oppose Constitutional Amendment 3, which will appear on the ballot in the general election on November 8, 2016.
Constitutional Amendment 2
Constitutional Amendment 2 addresses generating revenue for the Safe Harbor for Sexually Exploited Children Fund ("Safe Harbor Fund"). Formally known as the Georgia Additional Penalties for Sex Crimes to Fund Services for Sexually Exploited Children, Amendment 2 will trigger Senate Resolution 7 which allows the legislature to provide for penalties in cases where defendants are convicted of sex crimes. Amendment 2 would also allow the legislature to impose assessments on adult entertainment establishments serving alcohol which allow nudity. Revenue would be permanently protected and directly allocated to the Safe Harbor Fund and utilized solely to provide restorative services to child victims including medical care, counseling, and housing. The Safe Harbor Fund would provide an estimated $2 million in annual dedicated funding to support child victims of sexual abuse. The funds would be distributed directly to the organizations that provide resources to these children. GAWL believes that this constitutional amendment is a step in right direction toward providing care for our most precious citizens—our children—who have been the victims of sexual abuse and human trafficking.
Constitutional Amendment 3
The Judicial Qualifications Commission ("JQC") was created in 1972 to serve as an independent, watchdog agency, free from political interference. Constitutional Amendment 3 addresses replacing the current JQC with a newly reformed and re-established JQC which is selected, confirmed, and governed by the Georgia General Assembly. The state Legislature would provide for the composition, the manner of appointment, and governance of a new JQC. The new JQC, controlled by the state Legislature, would have the power to discipline, remove, and cause involuntary retirement of judges. GAWL believes that Amendment 3 would politicize the JQC by eliminating its independence and granting all authority to the state Legislature. The newly formed JQC would eliminate the separation of powers between the judiciary and legislature and, therefore, be highly vulnerable to political pressure. GAWL believes the state Legislature should not have discretion to control the composition, governance or procedures of the JQC.
GAWL's mission is to enhance the welfare and development of women lawyers and to support their interests. The organization has long embraced and encouraged its members to provide services to women and children in the community including assisting in the pursuit of justice and providing services to our children. GAWL is proud to join other prominent organizations in publicly endorsing Proposed Constitutional Amendment 2 which is aimed at providing medical care, counseling, and housing for child victims of sexual abuse throughout the state. GAWL is also honored to join other organizations including Georgians for Judicial Integrity in opposing Proposed Constitutional Amendment 3 and fighting to keep the Judicial Qualifications Commissions nonpartisan, free from political control, and committed to the fair and equitable regulation of our judges.
"GAWL believes it is important to take a position on Amendments 2 and 3. Both proposed Amendments will have significant impacts on our community and GAWL is committed to informing and educating its membership about those impacts."
- Alicia Grahn Jones, President.
Veronica Higgs Cope is the Vice President of the Public Affairs Committee of GAWL and can be reached at gawl.publicaffairs@gmail.com for more information.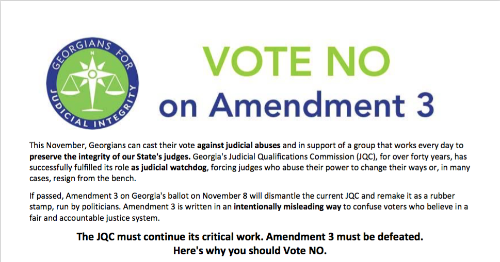 ---