Mentor Circles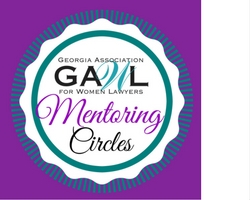 GAWL Mentor Circles accept new members each year in November. A link to the Statement of Interest will be posted once the application period is open. 
If you have never been a part of a mentor circle, it is a chance to bond with a small group of women and is very rewarding! 
Mentor circles are limited to practicing attorneys with a valid bar license in any state. 
If you are currently in a mentoring circle, but would like to change mentor circles for whatever reason, please notify your mentoring circle leader, and fill out a new Statement of Interest during the application period. Current mentor circle members who want to remain in their current circle do not need to fill out another application.
Questions? Email gawl.mentoring@gmail.com.
GAWL.edu
This practical and informative program eases new lawyers into the practice of law and fosters a sense of community amongst the group of newer lawyers. Participants take part in twelve monthly sessions over the course of a year.  Each session features four different speakers on topics ranging from how to deal with nasty emails and difficult clients, to explorations of specific practice areas such as litigation, estate planning, criminal defense, and in-house practice.  The participants learn about litigation strategies involving filing complaints, taking depositions and mediation, as well as about transactional practices, time management, billing and collections, malpractice avoidance and insurance, and more. The speakers are women leaders in the Atlanta bar who have been practicing for 10 or more years.  GAWL.edu is undergoing a refresh. Look for GAWL.edu applications and programming in early Spring 2024.
The GAWLedu program is open to all female attorneys who have been practicing for 4 years or less. You do not have to be a GAWL member to apply for GAWLedu, but if selected, you will need to be a GAWL member to attend.  For additional information or with any questions, please contact gawl.mentoring@gmail.com.
Testimonials
"GAWLedu helped me to meet my peers and more seasoned attorneys in a setting that was fun, collaborative and educational. You'll learn a lot about the business side of practicing law, but what was most helpful were the subtle nuances we were able to take in during each speaker's talk. These helped me to get a better idea of not only how to communicate with other lawyers and clients but also what the day-to-day life of these speakers actually looked like. It was so helpful to understand what I was doing well and what I could improve upon. GAWLedu is a perfect fit for anyone looking to break out of the norm and join a smaller or solo firm— it's the access to the profession I wish law school would have given us." - Christina Scalera- GAWLedu Class 3 participant
"GAWLedu was a fantastic experience.  Every month the program provided interesting speakers who brought unique perspectives to varied aspects of the law and the legal profession.  The class also provided opportunities to meet other new attorneys and share experiences.  GAWLedu not only enhanced my professional development, but it also fostered relationships that have continued beyond the end of the class. I would definitely recommend GAWLedu."  – Erika Pitzel- GAWLedu Class 2 participant
"GAWLedu has been instrumental to advancing my career. Having attended an out-of-state law school with few alumni in Atlanta, it was so important to me to find a group of newer attorneys with whom I could grow and develop close relationships. GAWLedu  has given me a sense of camaraderie and friendship that I had  been missing. It has provided me with an abundance of professional resources and has even positioned me for a highly fulfilling new job. Being an attorney has its unique challenges, and I believe that the relationships I developed through GAWLedu will help me rise to meet them." – Elizabeth Lawrence- GAWLedu Class 1 participant.
2020 GAWLedu Class
Beverly Lucas
Chanel Marie Patrick
Jambah A Sele Kollie
Katrina Williams
Marissa (Missy) Torgerson
Misty Gann
Pamela Bratton
Phyllis Talley
Rachel DiSanto
Regina M. Taylor
Saira Shakir
Shanna Howard Pasley
---
2014 Class
Aisha Success
Ami Manik Koldhekar Rodrigues
Amy Chalmers Durham
Andrea Wood
Annie Jordan
Daniella Duxbury
Jennifer Feld
Jennifer Gore- Cutherbert
Jessica Long
Kinda Abdus-Saboor
Kristi North
Lauren Simons
Lindsey Cambardella
Lisa Anderson
Mandy Moyer
Elizabeth Osborne Lawrence
Megan Hodgkiss
Meredith Parrish
Pamela Palmer
Ryan Harbin
Sheldon Slimp
2018 Class
Alaina Reukauf
Caroline Harwell
Eufemia Cabrera-D'Amour
Rachel Zisek
Jessica Guevara
Sana Rupani
Julia Spitler
Yesenia Muhamad
Mandisa Styles
Stace Burke
Liliana Ramirez Tristani
Courtney Broussard
Christina McCoy
Sarah Moskowitz
2015 Class
Jenny Sewell
Kristy Zimmerman
Morgan Bembry
Sumita Dalmia
Teri Freinkel
Ansley Evans
Kareemah Lewis
Jennifer Thomas
Rhonda Thomas
Kasey Chow
Sheronn Harris
Erika Pitzel
2019 Class
Angela Tompkins
Ashley M. Bowcott
Bridget Cardinale
Germani Hunt
Hermise Pierre
Katera H. Nelson
Kathryn B. Reddy
Lucy Aquino
Samantha Embry
Sharon Phillips-Biondini
Shelby A. McKenzie
2016 Class
Sherri Marie Carr
Gloria Wright
Lilia Kim
Ashley Shattles
Jessi Patton
Christina Scalera
Chinny Law
Yane Park
Amelia Grubbs
Faith Lynn
Crismeily Alburquerque
Christina Peterson
Beth Young
Abi Oyegun
2017 Class
Kathlyn Kashan-Womack
Janet Cantrell
Kimberly Wakefield Aiken
Kelley Napier
Megan Jones
Dene Matthews
Tamorra Boyd
Talis Trevino
Virginia Montgomery
Dana Dickson
Baylie Fry
Tiffani Smith
JoAnna Smith
Laura Akins
Joy Smith
Sarah Kelsey
Mary Lynn Paulson
Jennifer Cornelius