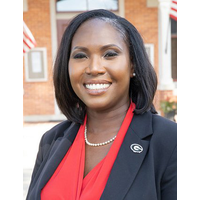 Judge McCamy serves as the President of GAWL's East Metro Chapter. She was appointed as a Superior Court Judge in the Alcovy Circuit in 2020 where she has served since that time. Because she was appointed to the bench during the pandemic, the changes to the way court is conducted have been the norm for Judge McCamy. She does, however, appreciate how virtual court proceedings have boosted the efficiency of the courts.
Judge McCamy first learned about GAWL shortly after graduating law school when she was a practicing attorney in Atlanta. She became a member at that time and was impressed with the programming offered by GAWL as well as the credentials of the women lawyers who would present at events. Judge McCamy then rejoined GAWL three years ago and has been a continuous member since that time.
In her free time, Judge McCamy enjoys traveling and trying new restaurants. One of her favorite movies that she has seen recently is The Harder They Fall on Netflix.
If Judge McCamy could go back in time and redo any aspect of law school, she would pursue more internships to explore more areas of the law, which would have allowed her to find a practice area she enjoyed sooner. If Judge McCamy could redo any aspect of her early years as a lawyer, she would have stayed consistently involved in organizations like GAWL and bar associations. She is enjoying the opportunity to rebuild lasting relationships in the legal community now.
---