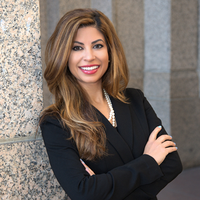 Judge Drake is the current group leader for the GAWL Buckhead Dinner Mentoring Circle. She was appointed as a full-time Magistrate Court Judge in Fulton County in 2020. In Magistrate Court, Judge Drake presides over a variety of criminal and civil matters, including warrant application hearings, garnishments, small claims cases, dispossessory cases, and first appearance hearings.
Judge Drake first became involved with GAWL while she was in law school when she was selected as a GAWL Foundation Scholarship Recipient during her 3L year. Judge Drake brought her father along to the awards banquet and recalls that he was very proud that such a large, diverse, and dedicated group had recognized her accomplishments and chosen to help further her legal education. Since then, Judge Drake has made an effort to remain active with GAWL, including through the GAWL Midtown Breakfast Mentoring Circle earlier in her career and now through the GAWL Buckhead Dinner Mentoring Circle.
In her free time, Judge Drake enjoys bird watching as a way to connect with nature. She also enjoys cooking and baking, walking in Piedmont Park with her husband and dog, and getting coffee with friends. Judge Drake loves watching cooking and singing competition shows, and also recently finished watching "Formula 1: Drive to Survive." She is looking forward to a trip to Chicago with her husband this spring (especially the pizza!) and the Woman of Achievement Luncheon this June that is hosted by the Atlanta Bar Association's Women in the Profession Section for which Judge Drake serves on the Board of Directors.
---