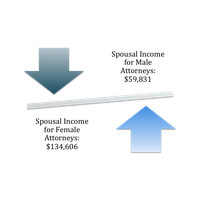 The phrase "Leaky Pipeline" describes the alarming situation in which women, already vastly underrepresented at the upper echelons of scientific and professional fields, are leaving these industries at a significantly greater rate than men. This occurs despite equal representation in graduate schools. Women make up 51% of graduates in the nation's top ten law schools, but when it comes to law firms, only 20% of law partners are women. (Source: NAWL.org). Although many law firms have established policies and practices in an attempt to retain talented women lawyers, these policies do not seem to be achieving that desired effect. Women still bring home lower salaries, report lower job satisfaction and leave law firms at much higher rates than men. (NAWL.org).
The purpose of the 2016 GAWL Leaky Pipeline study is to investigate the leaky pipeline phenomenon amongst lawyers in Georgia. In collaboration with Dr. Elizabeth Boyd, Director of Research at Kennesaw State University's Women's Leadership Center, GAWL conducted a mixed-methods qualitative and quantitative study of more than 1,500 Georgia attorneys. The results revealed that a majority of attorneys based intentions to leave on a feeling of misfit at their jobs or organizations. Additionally, participants cited lack of autonomy, work schedules, high stress levels and other difficult working conditions as precursors to turnover intentions. Differentiating factors included gender roles (both perceived and actual) as well as practical constraints such as spousal salary level.
These societal and practical constraints can and should be addressed in order to realistically address the leaky pipeline phenomenon. GAWL intends to release its findings later this year and is hopeful that the results of the Leaky Pipeline study will help empower women to improve retention levels the legal profession.
Alicia Grahn Jones is the 2016-2017 President of GAWL and a Trademark partner at Kilpatrick, Townsend & Stockton LLP in Atlanta.
---