Nicholas House is a nonprofit agency in the Grant Park Atlanta area that assists homeless families in making the transition from homelessness to self-sufficiency in a structured but home-like environment through one of their several housing programs. For years the Georgia Association of Women Lawyers (GAWL) Foundation has partnered with the Nicholas House and committed to serve dinner to the residents at the main emergency shelter on the second Tuesday of each month. Each month the GAWL Foundation Community Service Committee solicits volunteers and donations to help purchase and/or prepare dinner for the residents. After the volunteers serve dinner to the residents, they themselves are given the opportunity to join them for dinner and fellowship.
Dinner is served from 6:00 p.m. - 7:30 p.m., however the Nicholas House asks that the volunteers arrive with the meal by 5:30 p.m. so that the food can be prepared and ready to serve promptly at 6:00 p.m. The total number of residents varies from month to month however there are usually between 30-50 residents, including both adults and children of various ages. GAWL receives a final headcount in advance each month so that enough volunteers and donations can be solicited.
If you would like to contribute to this month's Nicholas House dinner, or are interested in contributing or sponsoring a dinner in its entirety later on in the year, please contact gawl.foundation@gmail.com for more information. We accept donations via Cash App, Venmo, Zelle, and Paypal. There is an ongoing need for donations so please be generous. Any and all donations are welcomed and appreciated.
We encourage both GAWL members and friends and family of GAWL members to volunteer. Children ages 15 and up are also welcome. As a precautionary measure, in light of the pandemic, the Nicholas House is currently limiting the total number of dinner volunteers to 10.
If you are interested in signing up for this month's dinner or for any subsequent dinner, go to: https://www.signupgenius.com/go/10c0c4cabac29a1fc1-gawl. To find out more about the Nicholas House and the wonderful work that they are doing for homeless families in our community, please go to: https://nicholashouse.org/.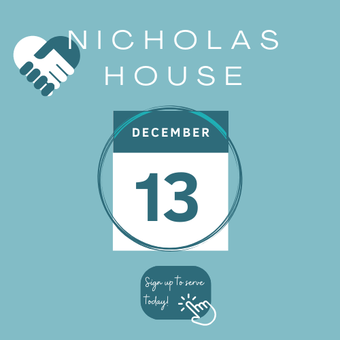 830 Boulevard SE, Atlanta, GA 30312, USA