The Emory Chapter of GAWL will be hosting its annual conference event on Saturday, April 1, 2023. This year's theme is "Women's Workplace Experiences." The event will run from 11:00 AM – 3:00 PM and is comprised of two components:
(1) Keynote Presentation and Panel Discussion on Women's Workplace Experiences (11:00 AM – 1:40 PM)
(2) Attorney–Student Round Table Mixer (1:40 PM–3:00 PM)
Interested attorneys are encouraged to attend both the presentations and mixer, or just the mixer. We hope that this event will be an opportunity for students to meet and learn from the women attorneys in the community!
Invited student attendees are from Emory Law, UGA, John Marshall Law, and Georgia State Law.
Food & Drinks will be provided. Please RSVP Here: https://forms.gle/5mts9nVJ6wN7Cxfs6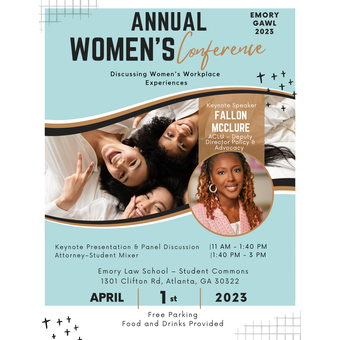 Emory Law School - Student Commons 1301 Clifton Road, Atlanta, Georgia 30322