Women's Pop Up Legal Clinic at Grace United Methodist Church
Join Atlanta Legal Aid and Grace United Methodist Church Women's Action Ministry to volunteer at a legal clinic for low income Metro Atlanta residents.
Clients will meet with a volunteer to complete a legal needs assessment check up for follow up by Atlanta Legal Aid on a variety of legal topics. Volunteers do not need expertise in any area to complete the intake/legal check up. In addition, clients are able to raise their housing, estate planning (advance directive or power of attorney), consumer law, or family law matter with an attorney for a 30 minute free legal consultation. We need both experts in subject matters and general volunteers for intake.
2 shifts:
Registration Table Shift: 10:15 am - 11:45am
Primary On Call Shift: 11:00 am - 1:00pm
Thanks for supporting community layering and providing access to justice to Metro Atlanta residents!
Special thanks to our Community Leader Sponsor, the Mack Law Firm!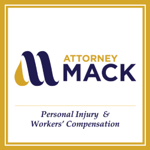 Alicia Mack, the sole proprietor of the Mack Law Firm, provides compassionate representation to injured workers and car accident victims.
Grace United Methodist Church, 458 Ponce De Leon Ave NE, Atlanta, GA 30308, USA